Beaches
Land Of Turquoise Water & Dazzling White Sand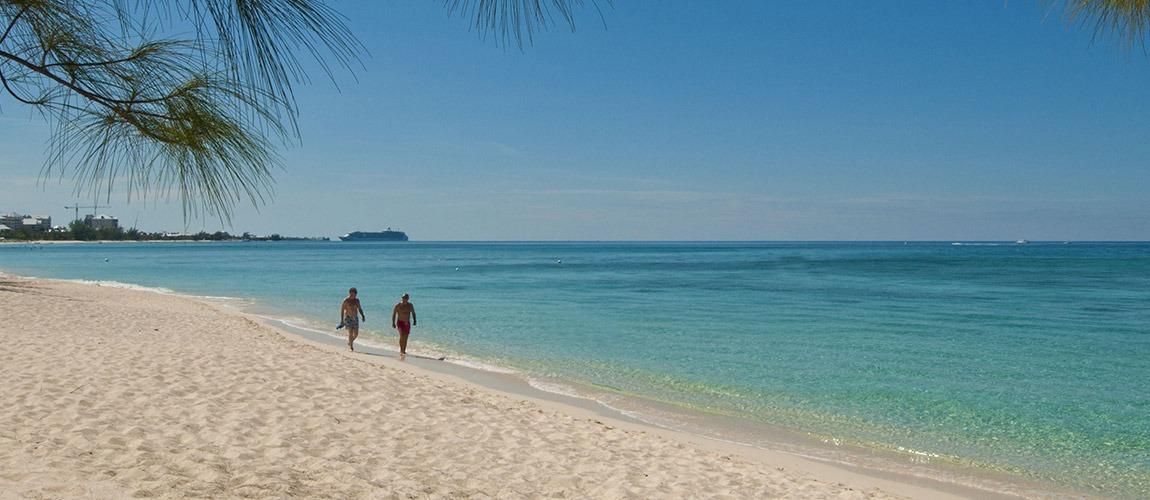 A luxurious Grand Cayman condo at The Avalon is the ideal base to explore Grand Cayman's beautiful beaches. Our condos are located on the largest and quietest portion of Seven Mile Beach, offering almost total privacy, beach chairs, and shady areas to cool off. In this uncrowded environment of total relaxation, we think you will compare it to the more restful solitude of Cayman Kai Beach than to the bustling beaches closer to George Town.
When you're ready to see more, there are a variety of other beaches on the island that offer unique features and amenities. And if you're interested in snorkeling Grand Cayman's warm, clear waters, many beaches offer direct snorkel access.
Following are highlights of some of Grand Cayman's unique beach areas:
Seven Mile Beach: The resort heart and soul of Grand Cayman, Seven Mile Beach is where the bold and beautiful go to see and be part of the scene. Crystal clear waters and pearly white sands make Seven Mile one of the Caribbean's most popular beaches. Seaward, you can look out and see kayakers, parasailers, and even snorkelers exploring offshore coral reefs. Meanwhile, the beach itself stays abuzz with activity from dawn to dusk as volleyball players, Frisbee hurlers, and sunbathers take advantage of this little piece of island paradise.
Rum Point Beach: A pumping beach area where everything from volleyball and windsurfing to parasailing and snorkeling is available, Rum Point is one of the Grand Cayman's more popular beach areas from which you have a panoramic view of the famous Seven Mile stretch. Facing north toward Cuba, the smooth, white beach is flanked on one side by shade trees and a beautiful blue spectrum of calm seawater. After lounging on the beach all day, stopping by the popular Wreck Bar for a beer and a bite to eat is a must.
Cayman Kai Beach: Ever wanted your footprints to be the only ones you see on snow-white sands? This "hideaway" beach, situated on the north side of the island just below Rum Point, offers the chance to swim, sail, snorkel, or sunbathe in relative solitude. Seashell collectors will be interested to note that the shore at Cayman Kai is a treasure trove of exotic conches, periwinkles, and the like.
Smith's Cove: Located south of George Town proper, Smith's Cove offers exemplary Grand Cayman snorkeling opportunities for beginners. The cove, protected by limestone formations and coral reefs, features white sands, some of the island's clearest waters, and a multitude of
parrot fish, sponges, starfish, and sea fans. The beach area is one of Grand Cayman's most popular. Picnic facilities are available.